Salmon Fishing Campbell River. What Fish are Running?
Fishing Salmon in Campbell River! Campbell River is known for its salmon fishing. Five species of salmon can be found in the waters around the region: Chinook (also known as king), Coho, Pink, Chum, and Sockeye salmon. 
Because the exact timing of fishing the Campbell River for salmon runs can vary from year to year, but generally, Chinook salmon run from May to August. Coho salmon run from August to October, and Pink salmon run in odd-numbered years from mid-July to mid-September. Chum and Sockeye salmon runs are less common in the Campbell River area but can occur in the fall. 
It's always best to check with local fishing guides or the Department of Fisheries and Oceans for the most up-to-date information on fish running in Campbell River.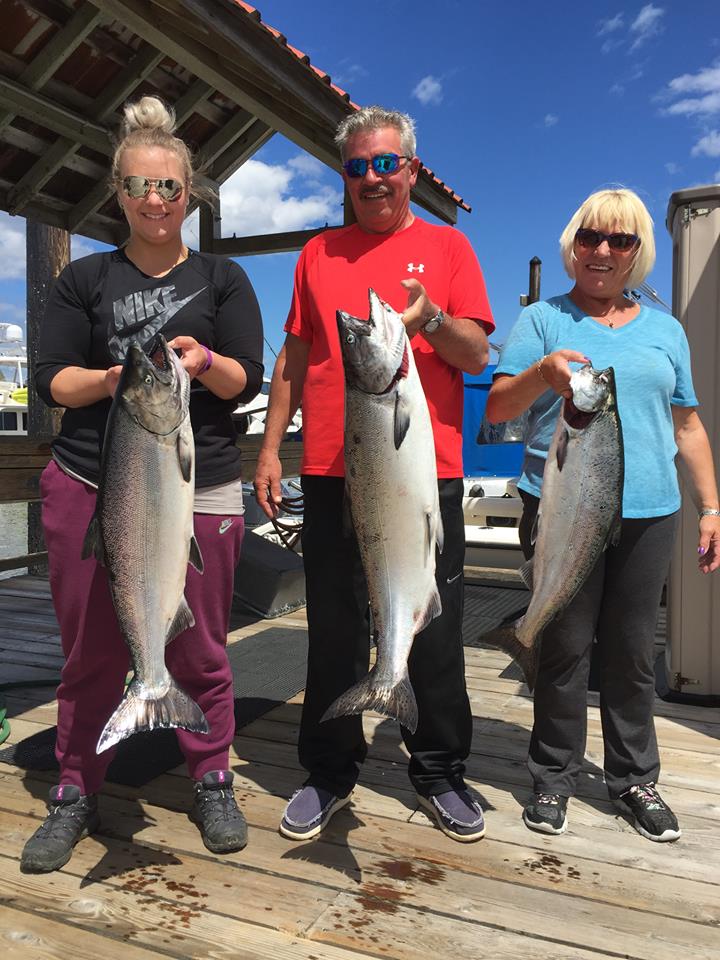 "An Unforgettable Fishing Experience"
So you're looking for an unforgettable fishing experience, you should consider booking a fishing charter adventure in Campbell River, British Columbia. Absolute Sport Fishing is one of the top fishing charter companies in the area. Absolute offers exciting and professional fishing trips for both novice and experienced anglers. So here's everything you need to know about booking your next fishing charter adventure with Absolute Sport Fishing.
Location and Fishing Opportunities:
Campbell River is located on the eastern coast of Vancouver Island, British Columbia, and is known as the "Salmon Capital of the World." The waters around Campbell River are teaming with salmon, including Chinook, Coho, Pink, Chum, and Sockeye salmon. Because of our 20+ years experience Absolute Sport Fishing will take you to the best fishing spots in the area, where you can experience the thrill of catching these magnificent fish.
The Company:
Absolute Sport Fishing is a family-owned and operated fishing charter company with over 20+ years of experience in Campbell River. The company is owned by Captain Laurel Gareau, a highly experienced and knowledgeable fishing guide. Because of his passion about fishing and expertise he enjoys sharing with others. Laurel is certified by Transport Canada and has all the necessary licenses and insurance to operate the Absolute Sport Fishing charter business.
Absolute Sport Fishing has a immaculate 26 foot Offshore 255 Pursuit is powered by a new Yamaha F300 HP outboard and a Yamaha High Thrust trolling motor the latest fishing gear and technology. Because of this craft you can be assured comfort and safety, and the vessel can accommodate up to 5 people. So whether you're a beginner or an experienced angler, Absolute Sport Fishing has the right boat and equipment to suit your needs. Click Here to Learn More.
Fishing Trip:
Absolute Sport Fishing offers a range of fishing charter trips to suit every taste and budget. Whether you're looking for a half-day, full-day, or multi-day fishing adventure, they have you covered. Ask about customized trips that can be tailored to your specific needs and interests. On your fishing charter, you'll have the chance to catch salmon, as well as other fish species such as halibut, lingcod, and rockfish.
For more information on our rates and packages "Click Here" for detailed fishing charter rates.
The Experience:
So, booking a fishing charter adventure with Absolute Sport Fishing is an experience you'll never forget. Their guides are friendly, professional, and knowledgeable, and they will make sure you have a great time on the water. You'll learn about the local fish species, fishing techniques, and the history and ecology of the area. And of course, you'll have the thrill of catching some of the biggest and most sought-after fish in the world.
Book Your Fishing Campbell River Sport Fishing Adventure Today!
Booking a fishing charter adventure with Absolute Sport Fishing in Campbell River is a great way to experience the thrill of fishing in one of the most beautiful and productive fishing grounds in the world. So whether you're an experienced angler or a beginner, they have the expertise and equipment to make your fishing adventure unforgettable. Book your next fishing trip with Absolute Sport Fishing and get ready for an experience of a lifetime!
"We had an Absolute Blast with Laurel and had tight lines all day long! Will be coming back for round two in August!"