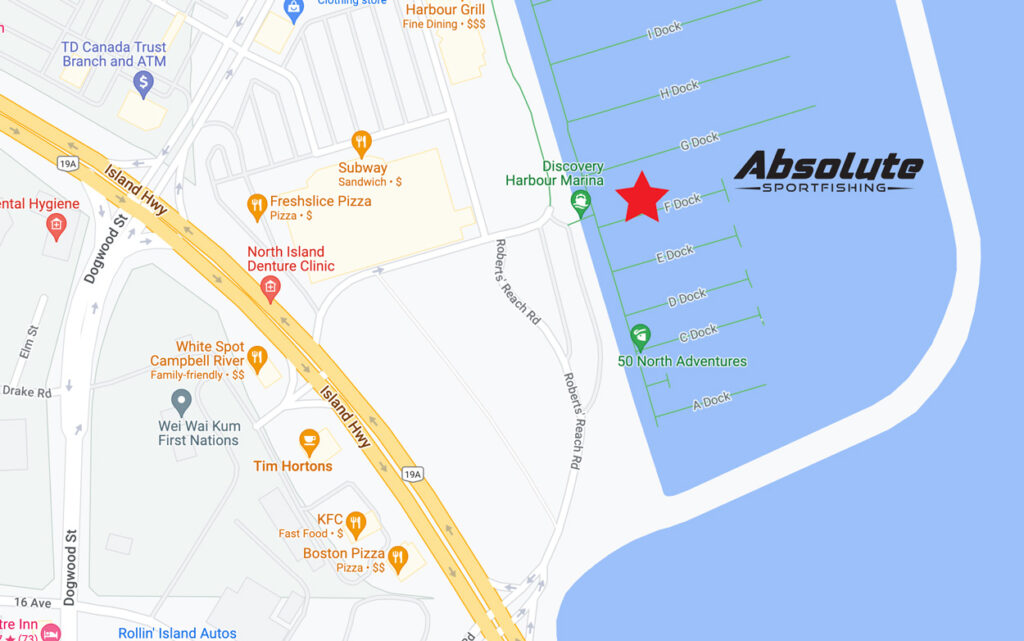 Directions To Campbell River Absolute Sportfishing
There are many directions to Campbell river Absolute Sportfishing. We are located in the Discovery Harbour Marina at the end of Robert's Reach Road in downtown Campbell River, behind the Discovery Harbour Shopping Center on F Dock, slip 29 directly beside the fish cleaning station. The following Google map shows you the location of our moorage in the marina in Campbell River, the location we do business from. 
Driving to Campbell River
Once on Vancouver Island, getting to Campbell River is easy. You have two choices:
the Inland Island Highway (#19), which is a four-lane, more direct route
or the fully serviced and scenic Oceanside Route (#19A), meandering through all the coastal towns and villages, clearly marked by the official "Starfish" signs.
Drive times to Campbell River:
Seattle – approx. 7 hours (including ferry travel time)
Victoria – 264 km / 165 miles – 3.5 hours (North on #19, or #19A)
Nanaimo – 153 km / 95 miles – 2 hours (North on #19, or #19A)
Comox / Courtenay Airport – 45 km – 45 minutes (North on #19, or #19A)
Port Hardy – 235 km – 2.5 – 3 hours (South on #19)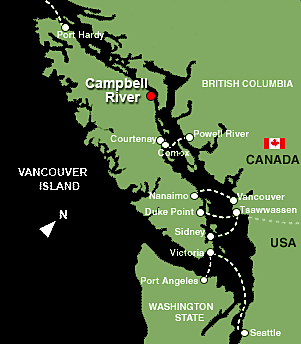 Ferry Service to Vancouver Island
BC Ferries
Vehicle and passenger service from all routes to and from Vancouver Island from mainland BC. You can view the ferry terminal webcams here. If you are planning a round trip to and from the Mainland, click here to find out about fare discounts.
Vancouver (Tsawwassen) – Nanaimo (Duke Point) – 2 hours
Vancouver (Tsawwassen) – Victoria (Swartz Bay) – 1 hour 35 minutes
West Vancouver (Horseshoe Bay) – Nanaimo (Departure Bay) – 1 hour 35 minutes
Powell River/Westview (Sunshine Coast) – Comox (Little River) – 1 hour 15 minutes
Prince Rupert – Port Hardy (Inside Passage route) – approx. 15 hours
Bella Coola – Port Hardy (Discovery Coast Passage route) – approx. 12 hours
Victoria Clipper
High-speed catamaran passenger service between Seattle WA, USA and Victoria, BC.
MV Coho
Vehicle and passenger service between Port Angeles, WA and Victoria, BC
Washington State Ferries
Vehicle and passenger service between Anacortes, WA and Sidney (Victoria), BC
Airlines Servicing Vancouver Island
Pacific Coastal Airlines
Daily service from Vancouver – 40 minutes
Air Canada
Canada and International flight service
Central Mountain Air
Service from Vancouver – 40 minutes
Kenmore Air
Floatplane service from Lake Union (Seattle area) to Campbell River
Westjet
Service from Calgary or Edmonton, AB to the Comox Airport – 1 hour 15 minutes
Corilair
Daily floatplane service from Vancouver to Campbell River
Northwest Seaplanes
Chartered & scheduled flights from Seattle and San Juan Islands to Campbell River
Campbell River Airport – YBL