Campbell River Fishing News
Welcome to the Absolute Sportfishing latest news! Here, we share stories from our Campbell River fishing charters in Campbell River, British Columbia, as well as tips and experiences to help you make the most of your own fishing adventures. Book your fishing trip now by clicking here!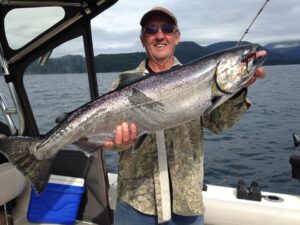 It's always a great time when Ken Sedore comes salmon fishing with me. Two days of hanging out and catching fish. Chinook fear this man! 😉 He's a sniper on the rod! 🔫 There is still some great fishing before the salmon head up the rivers!
Enjoy Campbell River Fishing News
Our customers have caught some truly incredible fish and we can't wait to share their stories with you. Whether you're a seasoned angler or just starting out, our blog is packed with valuable insights that will help you become a better fisherman. So, grab your fishing gear and get ready to join us on a journey through the bountiful waters of Campbell River!
Your heart will surge with adrenaline when the salmon hits, your rod bends hard and the reel-singing action begins. With Campbell River being located on the central east side of Vancouver Island it allows us to fish for Chinook (aka: Spring or King) year round as well as all the other 4 species of Pacific Salmon ( Coho, Chum, Sockeye & Pink) as they migrate through our region. You deserve to escape the everyday, join us on the water and let's go fishing!